What Color is Transmission Fluid?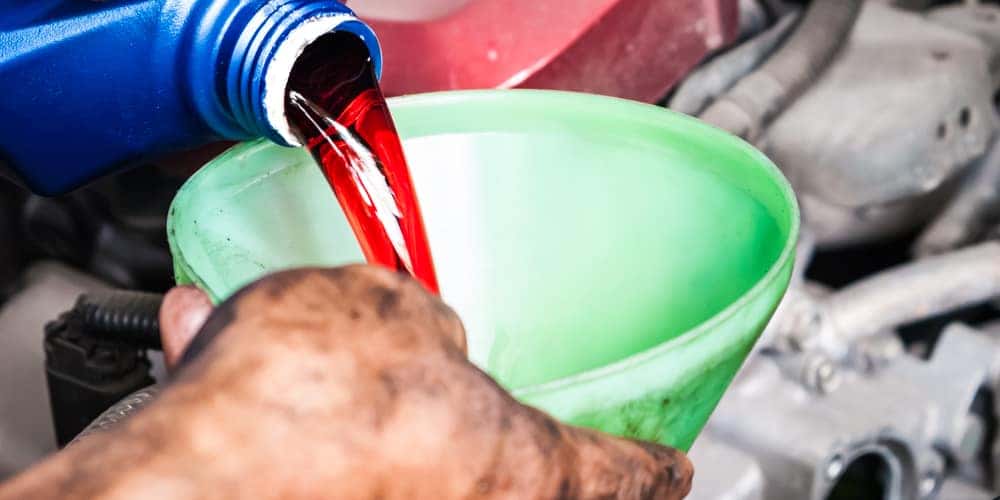 Your vehicle uses all sorts of different fluids to help it function properly on North Charleston roads. Each fluid has a different color to make them easily distinguishable from each other, but this leads many car owners to ask questions like "what color is transmission fluid?" When this particular fluid is new, it's dark red in color with a translucent appearance. This means if there's red fluid leaking from your car, it's probably transmission fluid. Learn more about transmission fluid and how its color can change depending on the life cycle stage it's at with Rick Hendrick Chevrolet.
What Does Red Fluid Leaking From a Car Indicate?
If you head out to your Mount Pleasant driveway to discover a red fluid leaking from your car, you can safely assume it's transmission fluid. These additional indicators can help confirm your suspicion:
Odor: Does the fluid smell a bit like petroleum? This is a clear indication that it's transmission fluid. If the fluid smells burnt, it needs to be changed soon.
Consistency: When you check your transmission fluid it should have an oily appearance and feel, sort of like engine oil and brake fluid.
Where is the Leak?: If the leak originates toward the front and middle of your car, this is another strong indication that you're dealing with transmission fluid.
What Color is Transmission Fluid as it Ages?
Transmission fluid starts out with a dark red color, but the color will change as the fluid ages. Here is a quick guide describing what color transmission fluid should be at each stage:
Brand-new fluid: Dark red
Normal: Darker brick red
Service your vehicle soon: Deep blood red/rust red
Service your vehicle immediately: Burnt/almost black
If you just recently had the transmission fluid changed but it's already turned a rusty or black color, there could be a bad transmission filter that's allowing contaminants to sneak past and muddle up the fluid. This is why it's important to schedule service without delay if the transmission fluid is that dark.
Maintaining Your Transmission
Avoid future problems with your transmission by following these maintenance tips:
Use the Proper Fluid for Your Vehicle: Modern vehicles now have more advanced automatic transmission systems, so it's important that you're using the right type of automatic transmission fluid.
Trust Your Owner's Manual: If you're unsure what type of fluid to use, you can find the most reliable info in your owner's manual.
Don't Skip Transmission Service: Keep up with transmission maintenance as outlined in your maintenance schedule. Regular inspections and fluid flushes/replacements will help prevent transmission problems in the future.
Need Transmission Service in Charleston?
If your transmission fluid looks like it needs to be changed or there is red fluid leaking from your car and you're looking for transmission service near James Island, look no further than Rick Hendrick Chevrolet. Our service center has the knowledgeable technicians and state-of-the-art equipment to care for your vehicle. What's more, we offer ongoing service specials to keep your maintenance budget-friendly!